Questions for Reflection:
How are we talking with our students about appropriate technology use?
Do we know how our students relate to the world through Social Media?
Have you ever thought of the impact of Social Media on our students lives?
What is Social Media and ME
Caroline Mueller, PhD, of Place Cartier Centre, LBPSB, developed a new options course called Social Media and ME – Les médias sociaux et MOI as a way to connect with students and their realities.
Why Social Media and ME?
The ME in the course title is in capitals because of the focus on the students' interaction within the different spaces of social media.
In this video, Caroline describes why she decided to make this course.
Video transcript of Why Social Media and ME?
How is the Course Structured?
The course was modeled on PRS 5203 (Preventing Dependency on Gambling) and extended to become a 6-credit options course. It was offered bilingually though it was mainly presented in English, students could interact and hand in work in the language of their choice.
In this video, Caroline describes how she structured the course.
Video transcript of Social Media and ME – Course Outline
End of Course Reflection – did Social Media and ME meet its goals?
The first session in which any course is taught comes with its challenges. Caroline felt that these challenges were worth the importance this course had for and her students.
In this video, Caroline reflects on the course, her goals, and the process of studying ourselves in relation to social media.
Are you interested in learning more about the course?
Then you should consult the course website! Caroline created the site to accompany her course for two reasons:
As a way for her students to access course content and share their own creations
As a way to share her course materials with other teachers.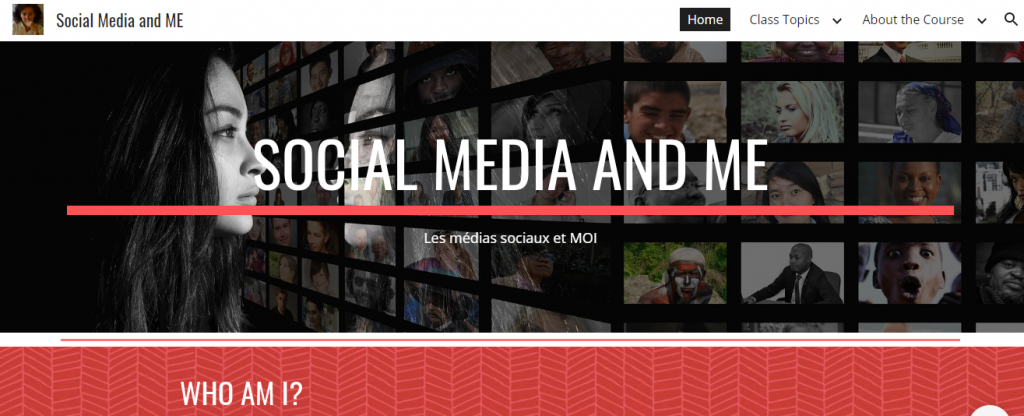 Social Media and ME
Tracy Rosen wrote this article based on resources created by Caroline Mueller, PhD.
Caroline Mueller, PhD is a teacher at Place Cartier Adult Education Centre. For over 20 years she has taught and studied languages in many parts of the world. Her graduate work at McGill focused on language and identity. More specifically, she explored relationships between learners and teachers in indigenous and international contexts.